Its bear-friendly location, superb fishing, and stellar hospitality draws visitors from around the globe to Brooks Lodge. Set in the heart of Katmai National Park & Preserve, on the world famous Brooks River, our lodge is a modern rendition of the charming fish camp established here more than sixty years ago.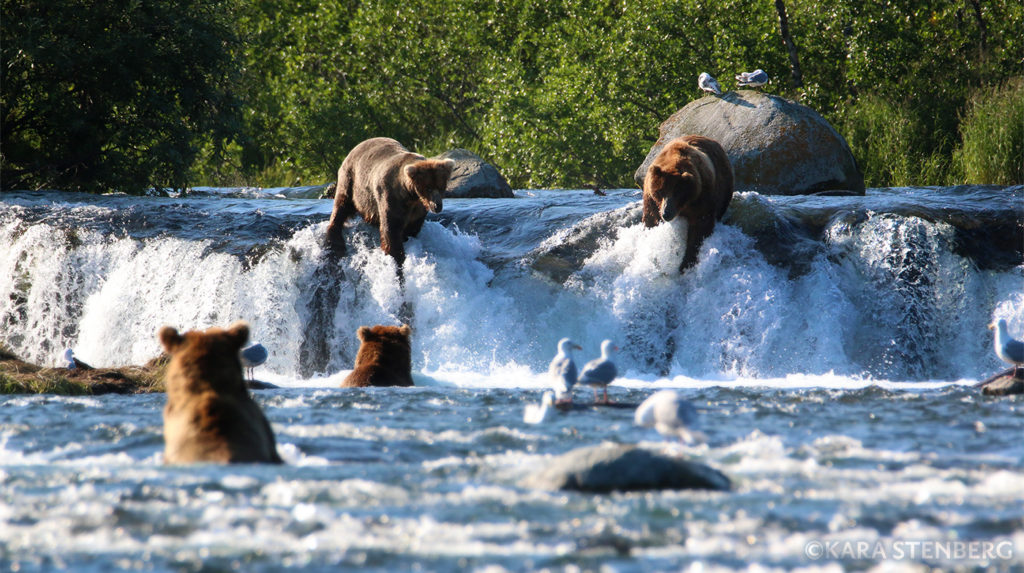 Take a short walk from the lodge to the legendary Brooks Falls and meet your fuzzy, four-legged neighbors! Fifty or so bears live along this stretch of river during peak salmon season and they aren't shy about showing themselves off to our guests. Have no fear, the National Park Service instructs all visitors on bear safety upon arrival.
Independent-minded anglers will find fantastic fishing (both guided and non-guided) next to the lodge on the Brooks River (fly fishing only), as well as on the surrounding Brooks and Naknek Lakes. Optional fly outs can zip you to other hot spots with large varieties of southwest Alaska native fish.
Just twenty-two miles away is The Valley of Ten Thousand Smokes. The Valley, where the Novarupta Volcano blew more than a hundred years ago in one of the most violent eruptions in modern history, is a sight to behold! Each year, sightseers the world-over flock to view the moonscape vistas created by the event via our natural history bus tour (which departs daily) or by float plane on our hour-long flightseeing tours.
Whether you're interested in bears, fishing, hiking, or capturing that perfect photo, Brooks Lodge is your ideal vacation spot in the heart of the magnificent Katmai wilderness.